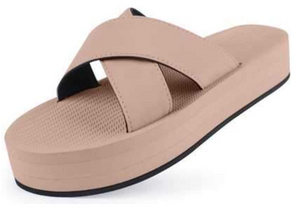 Cross over platform slides
The perfect eco slide in an ideal 'goes with anything' neutral tone, our Indosole Cross Over Platform Slides. These shoes are designed utilising the most ethical and environmentally friendly methods and made to be worn regularly. The limited-edition Platform Range gives you an extra 20mm in height.
Like all of Indosole's shoes this sandal has been made by recycling some of the world's tyre waste.
Made from 100% recycled tyre soles
Indosole is B-Corporation Certified
Waterproof
Contoured natural rubber footbed with embedded arch supports
Laser engraved enviro fibre straps

Light and flexible – each pair weighs approx. 14.5oz/412g
Responsibly crafted – no animals, no fuel powered machinery
To see the sizing chart click here