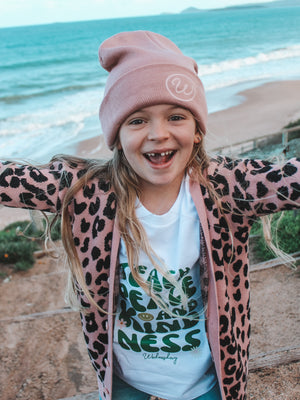 Kids Staple Tee - Teach Peace Green
Our signature; graphic printed 100% cotton kids tees. We have perfected a 90's inspired bubble writing print that will have you sprinkling positive vibes around like confetti.
Our Staple tees are available in limited quantities in both women's and kids sizes. Thoughtfully curated for on the go stylish families, easy wearing pieces you will wear forever. Printed in South Australia. 
Model is 6 years old and wearing a size 6.

Sizing Chart
Our kids tees are a regular/relaxed fit, we recommend you go your kids normal size or the one up.  
| | | | | | | |
| --- | --- | --- | --- | --- | --- | --- |
| Adults Size | Aus 6 | Aus 8 | Aus 10 | Aus 12 | Aus 14 | Aus 16 |
| Adults Staple Tees | | | | | | |
| Length | 63cm | 64cm | 64cm | 65cm | 66cm | 66cm |
| Chest | 48cm | 51cm | 54cm | 56cm | 57cm | 61cm |
| Adults Staple Crews | | | | | | |
| Length | 57cm | 60cm | 60cm | 61cm | 61.5cm | TBC |
| Chest | 66cm | 68cm | 71cm | 72cm | 75cm | TBC |
| | | | | | | |
| Kids Size | Aus 2 | Aus 4 | Aus 6 | Aus 8 | Aus 10 | |
| Kids Staple Tees | | | | | | |
| Length | 35.5cm | 40cm | 44cm | 48cm | 52cm | |
| Chest | 32cm | 34.5cm | 38.5cm | 41cm | 43cm | |
| Kids Staple Crews | | | | | | |
| Length | 36cm | 40cm | 43cm | 46cm | 51cm | |
| Chest | 34cm | 36cm | 39cm | 42cm | 45cm | |
| | | | | | |   |