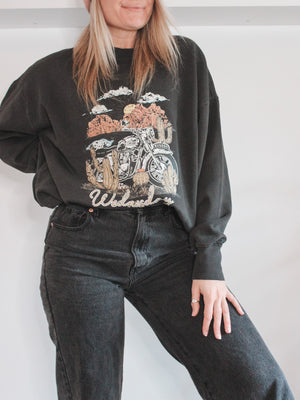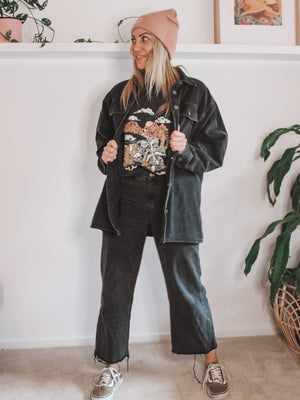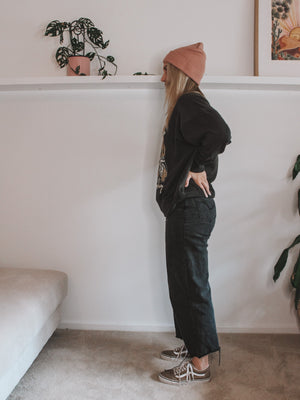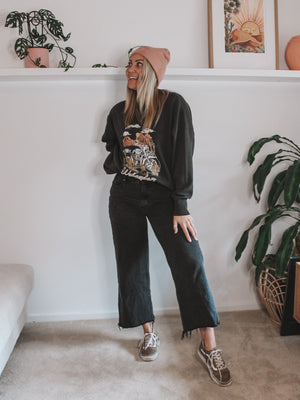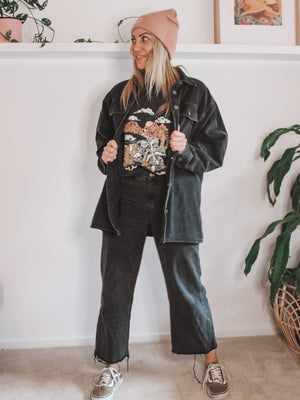 Staple Crew - Vintage Motorcycle
An oversized, slouchier-than-thou vintage wash crew with our exclusive motorcycle print. 
Our Staple Crews are available in limited quantities in both women's and kids sizes. Thoughtfully curated for on the go stylish families, easy wearing pieces you will wear forever. Printed in South Australia. 
Model is 164cm and wearing a size 8.

Please Note: This item has been produced using a speciality wash technique meaning no two are exactly the same. The kids crews are slightly less faded than the adults.
Sizing Chart
Our crews are oversized, which we LOVE and therefore recommend you go your normal size but if you prefer a regular fit simply size down.
| | | | | | | |
| --- | --- | --- | --- | --- | --- | --- |
| Adults Size | Aus 6 | Aus 8 | Aus 10 | Aus 12 | Aus 14 | Aus 16 |
| Adults Staple Tees | | | | | | |
| Length | 63cm | 64cm | 64cm | 65cm | 66cm | 66cm |
| Chest | 48cm | 51cm | 54cm | 56cm | 57cm | 61cm |
| Adults Staple Crews | | | | | | |
| Length | 57cm | 60cm | 60cm | 61cm | 61.5cm | TBC |
| Chest | 66cm | 68cm | 71cm | 72cm | 75cm | TBC |
| | | | | | | |
| Kids Size | Aus 2 | Aus 4 | Aus 6 | Aus 8 | Aus 10 | |
| Kids Staple Tees | | | | | | |
| Length | 35.5cm | 40cm | 44cm | 48cm | 52cm | |
| Chest | 32cm | 34.5cm | 38.5cm | 41cm | 43cm | |
| Kids Staple Crews | | | | | | |
| Length | 36cm | 40cm | 43cm | 46cm | 51cm | |
| Chest | 34cm | 36cm | 39cm | 42cm | 45cm | |
| | | | | | |   |