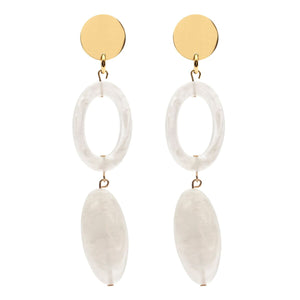 Granada Earrings
Granada Earrings by Amber Sceats
Launched in Sydney in 2012, the Amber Sceats jewellery line conveys a distinct sense of style and individuality. Featured countless times in fashion bibles across Australia, Amber Sceats pieces are designed for the fashionable individual, each piece is unique with timeless style.
- Length: 10.5cm
- 24K Gold plated circular stud
- Two hanging oval-shaped resin charms; white/opaque stone pattern
- Post stud backing
- Nickel free
PLEASE NOTE: This product cannot be returned unless faulty.
PLEASE NOTE: All stones and crystals are unique, and may have slight variances in colour and characteristics from the image shown.