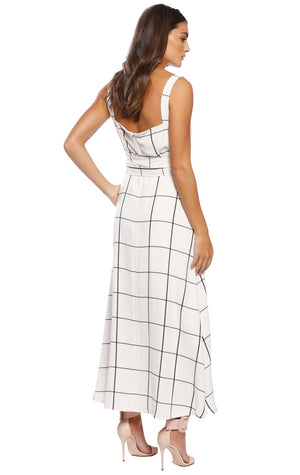 Grande Check Midi
Feminine minimalism is captured in the Grande' Check Midi. An oversized grid luxe fabrication features in this reimagined pinafore shape modernised for the conteporary woman. Self covered buttons fasten through the centre front while a wide wasit tie nips in the waist. The square cut neckline keeps the look fuss free. Fully lined throughout.
YARN DYE CREPE 97% POLYESTER, 3% RAYON
Inspired by French simplicity, designed & made in Australia.
Two Sydney girls founded Pasduchas with a simple aim. To create clothing with the sleek contours & bold silhouettes of Australian fashion yet tied back with the modern simplicity of the French. Their leap of faith created a distinct new voice of edgy femininity in design.
Evolving from the ballet phrase meaning 'catlike leap' the name Pasduchas pays homage to that leap & each & every one since as they continue to challenge traditional design  manufacturing. 
All materials are sourced, patterns drawn, fabric cut & bold new pieces created within Sydney. Keeping majority of manufacturing local demonstrates a passion for a transparent production chain, high standards of quality control & the founders commitment to staying actively involved in every aspect of the label.